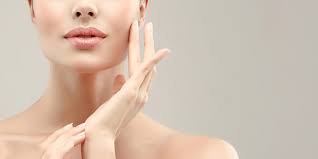 Healthy skin is within your reach
Oil of Olay coined the saying, "love the skin you're in". Sounds easy enough, but you'd be surprised to find out how often people neglecting theirs. Healthier skin is within reach and can be achieved by altering your daily routine and being consistent. This blog will discuss how cleansing, exfoliating, moisturizing, and applying sunscreen can produce noticeable improvements quickly.
Cleaning Your Skin.
This simple, yet important task is often done incorrectly and sometimes, not at all. The first (important) step is identifying your skin type:
Normal Skin
Oily Skin
Combination Skin
Dry Skin
Sensitive Skin
You will want to find a cleaner that is designed for your skin's needs. You don't want to strip out your skin's oil if you already have dry skin or add oil if you have oily skin. Purchasing a cleanser from a drugstore or distributer is recommended as standard bar soap can dry out your skin. Products that deodorize or have strong fragrances can remove protective lipids and damage skin overtime.
Do not over-wash your face. Twice a day is fine using warm water (avoid hot and cold). If you wear make-up, remove it before cleansing. We will talk about make up removers/ toners/ astringents in future blogs.
Exfoliate:
Removing dead skin cells is an important step for healthier skin. Exfoliating weekly with a microdermabrasion, chemical peel or retinoid. Regularly exfoliating your skin will make it more radiant and enhance its glow. To remove the dead skin at home, you can use a towel, exfoliation sponge or brush, loofah, dry brush, etc.
Moisturize:
Hydrating your skin is an important step. Investing in a quality moisturizer can make a big difference and will defend against wind and other factors that cause the skin to dry out. If you have oily skin, don't be fooled, you still need to moisturize on a daily basis. Lastly, seasons play a role in your skin's hydration needs.
Fall and Winter:
Cold weather and wind create a lack of moisture outside and in that can cause cracking, chapping, irritation and skin conditions such as eczema. Easily overlooked, the winter months require staying diligent about sun safety. Just because the sun isn't hot doesn't mean you don't need to protect your skin from it's rays.
Don't forget sunscreen
Don't forget about your lips
Remember to moisturize your hands
Don't take overly long, HOT showers
Consider apply moisturizer RIGHT after a bath or shower to seal in and replenish skin.
Change over from lotion to cream
Spring and Summer:
After a long, cold winter, outdoor activities ramp up as the weather starts to warm up and the days become longer. With more exposure to the sun, skin damage becomes more of an issue.
Use creams with SPFs
When its warmer, use sunscreen daily
Wear protective gear like hats, sunglasses
Use more than aloe when treating sunburn
Protect your skin from the inside out.
What you put into your body affects your skin as well. Drinking lots of water and eating antioxidant-rich foods like kale, carrots, berries and kiwi with vitamins A, B, C and E can improve your complexion. Exercising regularly plays a role too; it increases blood flow and detoxes the skin through perspiration. You should also aim to get eight hours of sleep a night. This is typically hard for many people, but the more sleep you can get will help.
Artistic & Co. offers many products and solutions that can help you achieve healthier looking skin. We encourage you to visit our shop, watch our videos, and contact us with any questions you may have!